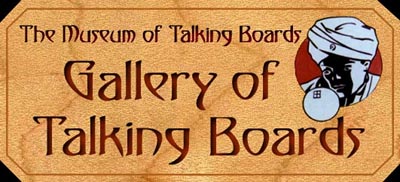 Welcome to our picture gallery, the heart and soul of the Museum of Talking Boards. Presented in no particular order are 96 talking boards and an assortment of planchettes produced during the years 1860 to 2005. Some of these boards were on the market for a fairly long time, a decade or more, in some instances. Others survived for a brief period, sometimes only a single production run. In any event, they have for the most part disappeared from the American scene except for the occasional flea market or on eBay where collectors buy and sell. If you like what you see and would like to view large resolution images plus many more recent boards, visit our Museum of Talking Boards Collection courtesy of Google Picasa Web Albums. These are huge images so be sure to use the fullscreen slideshow feature. We hope you enjoy them.
Site Map | Main | FAQ | History | Directions | Theories | Stories | Gallery
Ouija-stitions | Interactive | Books | Movies | Collect | Buy | Links | e-mail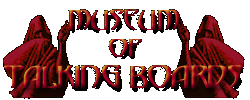 You are visiting the Museum of Talking Boards
Copyright © 1996-2015. All Rights Reserved.