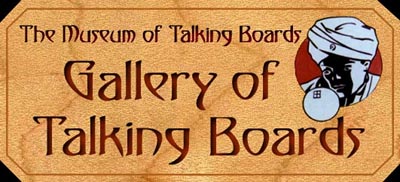 Welcome to our picture gallery, the heart and soul of the Museum of Talking Boards. You'll want to start with our thumbnail pages where we have 96 talking boards and an assortment of planchettes in no apparent chronological order. There is a short description with each image to get you better acquainted. Some of these boards were on the market for a fairly long time, a decade or more in some instances. Others survived for a brief period, sometimes only a single production run. In any event, they have for the most part disappeared from the American scene except for the occasional flea market or on eBay where collectors buy and sell.
If you like what you see and would like to view large resolution images plus many more recent boards, visit our Museum of Talking Boards Collection courtesy of Google Photos. In addition to factory boards there is also a collection of handcrafted boards created by artists of varying skills over the past 20 years. You can get a preview for what you will see by running the slideshows below. Clicking on either will take you directly to the Google site.
Site Map | Main | FAQ | History | Directions | Theories | Stories | Gallery
Ouija-stitions | Interactive | Books | Movies | Collect | Buy | Links | e-mail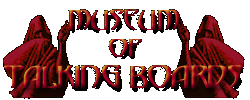 You are visiting the Museum of Talking Boards
Copyright © 1996-2017. All Rights Reserved.