Electric Mystifying Oracle
Patent June 6, 1930
1,870,677. AMUSEMENT DEVICE. William A. Fuld,
Baltimore, Md. Filed June 6, 1930. Serial No. 459,571.
4 Claims. (Cl. 273-161.)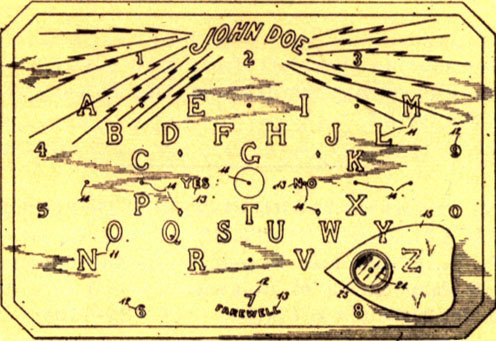 2. An amusement device comprising, in combination, a board bearing characters inscribed thereon, a plurality of protuberances carried by said board interspersed among said characters, a plaque mounted on legs movable upon the board, a combined lamp socket, battery clip and switch carried by the lower surface of said plaque, said switch adapted to be closed by contact with any of said protuberances occurring as a result of movement of the plaque to close a circuit from a battery in said clip through a lamp in said socket to illuminate a character adjacent the contacting protuberance.
Site Map | Main | FAQ | History | Directions | Theories | Stories | Gallery
Ouija-stitions | Interactive | Books | Movies | Collect | Buy | Links | e-mail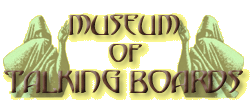 You are visiting the Museum of Talking Boards
Copyright © 1996-2017. All Rights Reserved.